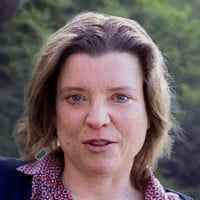 Marie Elisabeth Müller
Marie Elisabeth Müller
Professor of Innovative Content Strategies
Biography:
at Stuttgart Media University in Stuttgart, Germany. Journalist, speaker, writer and mobile and multiplatform communication expert.
"Now Age Storytelling equips journalists and storytellers best for the fragmented digital media age. It is the great enabler to fully understand and apply digital methods within an integrated multi-media digital workflow." – Marie Elisabeth Mueller
Why storytelling can change communities & mobile is a real gamechanger
In an increasingly connected but divided world, how can mobile storytelling help us share our stories? What opportunities does mobile technology have for social change and information sharing? What does it mean to produce content in a content-overloaded society, and how can increased media literacy help us to protect democracy?
Marie Elisabeth Muller, a Professor of Innovative Content Strategies at the University of Stuttgart, spoke to Traces.Dreams about her work on mobile communication and storytelling. As a journalist, Marie is passionate about new opportunities for content creation using mobile technology, and believes that with proper media literacy, social media can help us to become more engaged, critical, and open people, better able to share our own stories and connect around the globe.
For her, social media doesn't have to mean 'dumbing down', but can instead be a learning area in which we all have the chance to look beyond our own narrow views, and share our stories with the world.
Watch the video to find out more, and join in the conversation.
Watch the trailer:
Watch the video:

Listen to the Audiofile here:
Read the transcript of Marie Elisabeth Müller's Video here ◂
Marie: My name is Marie Elisabeth Mueller. I am Professor of Innovative Content Strategies at the Media University in Stuttgart and I work at the Department of Media and Management focusing on mobile communication and storytelling with immersive technologies.
Nerina: Maria Elisabeth innovative content strategy for whom? Who are your students?
Marie: That is a very interesting question because from my background and also from my perspective I work with journalistic storytelling: the true stories, with verified stories and my students are not journalistic students. Most of them go into content marketing, go to agencies later they have a wide variety of professions in the online media and the digital media industry for them. So I work with them on story telling that is credible, that brings value to the user and it's from the start we look at the benefits of the user and what is our relationship and what could be of value for both of us.
Nerina: What is in your opinion the most important message that your students get out of your lectures?
Marie: Yeah, mobile is first. With nothing else other than our smartphones in our pockets which are fully equipped media house, it's a fully equipped publishing house. So that is the first thing you have to understand when it comes to mobile. The whole topic of mobile communication that is really a paradigm shift with respect to everything: workflow distribution, revenue payment model, the whole industry that is really upside down and that is new. Still we can see a reluctance within the industry and you see it more also at the universities.
So that is something that may be most important is just to raise awareness and to teach the application of mobile communication, working with mobile devises, thinking mobile, mobile is also about mobile mindset we often explore and I think that is my message. Open up for mobile because I believe we are already on the trend from mobile to variables. So I think that there's an urgency to think about how mobile works, how does it really affect the industry, where are the pros, what can be the benefits, how can we manage to find a way to build up revenue by mobile it's a completely diversified products line also. So all these things it's very complex, it's challenging our world and the innovation speed we live in and that is where I want to take my students.
Nerina: What does it mean to produce content in a content overloaded society?
Marie: Internet is online, online is social media, and social media is mobile and with mobile you reach out potentially to like four billion people and that is increasing. So it's a lot of noise. Social media and mobile live from credibility and from credible people speaking content, being interactive, developing content maybe together interactively and in live format with these users. So content becomes much more of a story. Somebody tells a story and the person telling the story is a guide and he's not somebody who sells something or who wants to bring a message across and that's the end of it, you're not talking down to people. Content becomes an interactive story pattern. Even if you want to just really inform or bring across a product you have to connect it with a story how it is useful for people, for real life people. It has nothing to do with former ways of marketing I think that changed a lot. So content basically is stories.
Nerina: What kind of skills do you think your students are going to need the most?
Marie: That is also very interesting for me because the longer I work at the university and now it's in my fourth year I understand that journalistic skills are relevant for every story teller today and everybody is a potential story teller. So you need from the start to know how to verify content, photos, videos, interviews, how to verify your sources and the material, how to report, how to tell a story it is very important to know how to do it, but then don't forget data.
Today we start when you want to be successful with your stories out in this noise, the environment of four billion potential people then you have to analyze before you find the story and before you produce the story who is interested in that and who do you want to reach out to and which platform demands which format, which tools are available. That in itself is innovative and that is something that is also facing a lot of resistance and reluctance within the journalistic and also the marketing industry. Because I think in the past all the professional profiles were clearly distinguished but if we talk about mobile and content stories we talk about maybe one person who can do it all or a newsroom backing up this data analytics and also helping with the distribution. But producing the story is up to one person with his or her mobile. So these are really valuable and new skills and everything develops so fast and that is why we have to be open and innovative on the fly.
Nerina: You're really passionate about mobile storytelling and you have also a new website and you write articles on medium. Where does this passion come from?
Marie: I am so passionate about that maybe because in my own professional biography and in my own life I am a timeline of media evolution. My grandfather bought a printer, my father was the first printer and in the Second World War he learnt how to print. I have worked for 15 years for a German public broadcast station and for many other media as well and my focus was on radio. So I learnt that not use I, not to use the first person, I learned to talk down on people and that's it. You tell a story and that's it, end of the story.
In German we have a saying like it is "versendet". It went on air and bye, bye you never hear from it again and readers, users and listeners who came back and wrote letters also they were ridiculed, nobody would take them seriously. So that changed dramatically and that is why I am so passionate about it because that has the potential but I see that it breaks down walls and I am very passionate about fairness, equality, also gender equality. Giving underrepresented groups a voice or make them aware that they can become their own spokespersons today everybody has a mobile right now. So this potential to open the eyes and the minds for it that is what I am very passionate about and also my experience.
I have done a lot of work shops now internationally in India, also in the US than here in German, also in communities not only at the university and the feedback we receive and I receive is overwhelmingly positive. When I go there and explore and produce stories on this mobile my workshop participants most often the first time that they hear something positive about using social media for their stories, for credible stories and I think that made me also very passionate to give that to the people not to warn all the time. When other media were invented and introduced to the masses a lot of warnings came up: it's dangerous, you will become a stupid person basically.
But I think it's important that we learn how to use them in our own way and also about the negative side but how can you prevent, how can you work with privacy setting and how you can figure out what is a verified photo and what not. So we have all these tools and if you increase media literacy even in the primary schools I think we should go and not warn the kids about using their smartphones but train them to use them right so that they have this powerful means. Then it would protect also our democratic societies. If you don't learn how to work with mobile and social media they know it and they will manipulate people a lot. So there are plenty of reasons why I am so passionate about it and it's very, very important for the future of our societies to learn how mobile communication works properly.
Nerina: On your website there is an amazing picture of you being interviewed by a very young reporter. Could you tell me more about this?
Marie: That was the most touching experience for me in my experience with mobile communication. In last February I went to India and then I spent one week in Kerala and I visited a primary school who could produce without any external funding a news show with mobile only on YouTube. They highly appreciated that I made the effort from their perspective to go there and to encourage the children and to tell them how relevant it is and I am convinced, I believe that these children are the youngest mobile reporters you will find in the world and it's their own initiative. The teachers are great, the children are great so they built this newsroom and I think that is what I love to support.
Nerina: What is the most important lesson that you have learnt from this experience?
Marie: Maybe it's visible in this experience that is typical from my experience as well in the digital space that it's a very wrong approach if you think that you're isolated with your smartphone and then you chat to strangers and foreigners but you never really leave . No this is prejudice. No, I am a model to show you can get in touch through a smartphone, through social media and then you will also meet and even if it's 7000 KM away or 4000 KM away you will meet.
I see it in my young students also here in at the German Media University that they don't see the opportunity to "just" chat or to just do an interview by using Twitter. So we started this and it's really makes them very excited about it, they think they can really make a difference. That is what they feel in one second that they can reach out and then even famous influencers or journalists come back. They do a quick Twitter interview in 15 minutes they take the time and then they are connected and knowledge has been shared and it's published. So that is a very exciting experience and you could never reach out and make this experience in some groups and also powerful movements if you were not using mobile. With this mobile communication you can reach out to everybody literally and I think that is a very powerful message.
Nerina: Why did you become a journalist?
Marie: I personally want to make a difference. I've always wanted to work with people. I had the opportunity to stay in the university for example but I wanted to go out and talk to the people and that is also what you could see in this radio and now this mobile it's very oral, it's a very intimate approach so to speak. When I say from a spatial perspective you don't talk down to people and now users are also brought into the story, immersed into the story. Journalism is becoming much more of a service.
Content marketing is also a service. You don't want to talk people into buying something that they don't need that's old, it's old fashioned, and it's over. People are much more aware now of what is happening and they want to be taken seriously and that was obvious. It's already been about the little child. I like to talk to people, go out, find out more about them and so maybe I'm not used to talk a lot about myself. It's not so much about myself it's more like about connecting and talking to other people that's really relevant to me.
Nerina: Is there somebody who inspired you?
Marie: I think the story of my grandfather who I never met, he died before I was born. So my grandfather came from Poland, from Poznan and he literally walked to Hamburg and then went on to Duisburg and opened a printing enterprise and I am very proud of him and his family. Because I think it's bold; it is the media enterprise and also it was very innovative at the time and print means a lot to me. Everything started with printing in the media industry so I value that but I also think that it's time to go ahead and embrace mobile and wearable and the marvelous technologies now.
Nerina: Are we going to read paper books in the future?
Marie: I think we will always read and people always listen to podcasts for example. So for a lot of words. Words are relevant not only visuals but books maybe it is something that's becoming exclusive. I don't think they will completely die out but I think just for practical habits, yeah I'm also used to reading on my mobile and books will be exclusive products in the future.
Nerina: Do you have a favorite book?
Marie: If I would mention a favorite book I would mention two books because I don't want to mention only men. I have made it also one of my goals is to always create equality in perspective. So I really love Julian Barnes and his book A History of the World in 10½ Chapters. There's a history of the world in 10 1/2 chapters which l love this book very much. I am also very fond about the literally report about Hanna Krall, the Polish writer and journalist, she is both and she's a great model for me.
Nerina: Why is she a role model for you?
Marie: Because she is a woman and she fought her political fights and she also managed to write about very painful historical periods and persons. She created this culture to picture lives of victims from the nazis times where the nazis managed to destroy all the documents. That I think is really a role model that she managed to create a credible story telling about lives which are not documented. Which is very difficult to write about it and not to write like in a fictional way but to make very distinctively clear this path is something we don't know but it could have happened like that, it's very realistic and this is what we know and then to match that to a very igniting story. That is very, very important and these skills are relevant today for social media as well. When it's a content story stories have to be short and igniting and we always have both sides. Sometimes we act in a way that is fictional or poetic or we create and the other things are the facts and really the reporting side of things and if both come together in a story I think that is breathtaking.
Nerina: What is the future of stories? What do you think that innovative communication will look like in 10 years?
Marie: I do hope it will be affordable and accessible. If you talk about equality it always has to do with access and access to these stories, access to the technology that enables these stories that is the most important and I fear that it might be very expensive for a big part of the population on earth to afford that. But I would like to make a difference and show with my passion for mobile how to work with low key technology and affordable technology for everybody with these stories.
I see the future when I look at it in my optimistic perspective I see it as a crazy future. We don't need any devices in our hands everything will be screens and we can project 3D and artificial intelligence objects and data visualisation and everything on the fly everywhere and it's very personalized. I am looking forward very much to this personalized content and knowledge. We can activate everywhere where we go and walk and communicate about it and that is very exciting.
Nerina: Don't you think that perhaps we will keep even more storytelling, sharing and listening all in our groups. Do you think that we're going to be able to communicate outside our bubble?
Marie: Yeah, I am optimistic that we can do it. It comes down to media literacy. If you know how to share and to create and to reach out to communities who want to connect with us then everything is possible. No, I am not pessimistic about it because history tells us the filter bubble started not with the social media or mobile it was there always and it was much worse in the past. People would only vote for the same party for their whole life, they read one newspaper for their whole life and so is that not a filter bubble? An extraordinary filter we're coming from. So the opportunity to reach out to diversified audience and to make use of our power in our pockets that's here but we have to teach and to learn how.
Nerina: You said that you would like to make a difference. What is the most important difference that you would like to make?
Marie: From today I would say I would like to make a difference really for underrepresented groups and also for equality; for gender equality. I am tired, I am so tired of hearing all these excuses why there are only one or two women on the podium and six or seven men and to always see this inequality in representation of women and men in the media for example. I'm so tired and it all boils down to human rights for me and to interests that is interests against women rights and I would like to make a difference here.
Nerina: What do you like doing when you are not working and dreaming about mobile story telling?
Marie: Writing. I am writing whenever I have time and that gives me complete peace and peace of mind and I can forget everything if I am able to write.
Nerina: What do you write?
Marie: I write true stories.
Nerina: A little bit more? I am curious.
Marie: I write novels. I haven't published a novel yet but I am writing on a very personal story about my family and I am writing about a sweet girl in Berlin which is a more entertaining novel. So I have several projects and I have been a writer since I could sing, since I was girl.
Nerina: I am really looking forward to reading your novels in a real book. Thank you so much for this conversation Elisabeth.
Marie: Thank you Nerina. It was a great pleasure.
Nerina: And thank you for watching. See you next time again. Bye, ciao.
Biography:
at Stuttgart Media University in Stuttgart, Germany. Journalist, speaker, writer and mobile and multiplatform communication expert.
"Now Age Storytelling equips journalists and storytellers best for the fragmented digital media age. It is the great enabler to fully understand and apply digital methods within an integrated multi-media digital workflow." – Marie Elisabeth Mueller