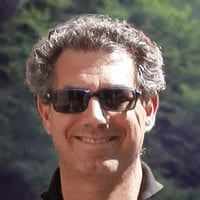 Simone Beta
Simone Beta
Professor of Classical Philology
Biography:
Università degli studi di Siena, Italy
Do you know where the word 'politics' comes from?
How were ancient Greek and Latin texts disseminated throughout history? Why should we care? And what can these texts tell us about the formulation of our modern societies, and how we should respond to current political events?
These are some of the questions that preoccupy Classical Philologist Simone Beta, a lecturer at the University of Sienna, Italy, who's recent autobiographical retelling of the life of the Palatine Anthology, gives an insight into the histories of the Western world.
In the book's retelling, Simone shows us how the ancient text has travelled across Europe, and the ways in which it still influences modern literature and societies to this day. In this video, Simone tells us how, in the 15th and 16th centuries, people all over Europe began to read and study Latin and Greek texts, and the story of Greece and Rome became a topic of discussion among the intellectuals of Europe.
Watch our interview to discover the tale of how modern Europe started from these discoveries, and see the ways in which our social, political, and cultural systems are founded on these ancient texts.
Watch the video:

Listen to the Audiofile here:
Read the transcript of Simone Beta's Video here ◂
Simone: My name is Simone Beta. I teach Classical Philology at the University of Siena, Italy.
Nerina: What is Classical Philology Simone?
Simone: Classical Philology is the study of Greek and Latin literature and the study of the way their texts have come down to us since antiquity to modern times.
Nerina: How do we know what we know about Greek and Latin literature?
Simone: They had books. They made books out of papyrus which was a plant that grew in Egypt and they wrote on these. Some parts of these papyrus books had been saved by mere chance but the biggest part of Greek and Latin literature was saved because these works were copied all over the centuries by monks in the abbeys of Europe these regards Latin books and by monks in Athens or Constantinople that became the capital of the Eastern Empire and they have been copied, copied and copied. And then when these texts were discovered by the humanist in the 14th -15th century they were then published because in those years Gutenberg invented the printer. So when they began to print they were saved forever. So from that moment on there was no chance that these texts could be missed or lost.
Nerina: You have just published a book about a Greek manuscript with the title Io, Un Manoscritto, Me a manuscript, right?
Simone: I decided to write the story of this book because as many of the ancient manuscripts this book had a very interesting history. It was written in Greece of course in Constantinople around the 10th century A.D. and it's called the Palatine Anthology the collection of the equivalent of small poems. It was brought to Italy in the years that preceded the fall of Constantinople and the attack Ottoman, the Turks and then from Italy it started to make a long trip all around Europe because it was owned by Erasmus of Rotterdam. He was one of the most important intellectuals of Europe and then probably he gave it as a present to Thomas More. Thomas More was the secretary of Harry the VIII and then after his death it became a possession of John Clement who was a very famous physician.
And then since this Clement was Catholic and England had become Anglican he went away from England and went to Belgium where the Catholic religion was more important. Then in the beginning of the 17th Century it found its home in the library of Heidelberg in Germany. But Heidelberg was a protestant town and when the town was conquered by the Catholics during the 30 years' war the book was given as present from Maximilian of Bavaria it was given to the Pope. So book went from Heidelberg to Rome.
Then when Napoleon defeated the army of the Pope at the end of the 18th Century like many objects of art also this manuscript went to Paris. When Napoleon fell the books were given back not to the Pope but in this case their possessor Heidelberg. But since in all these travels the book had split up into parts the French gave back only one part of it and one part remained in Paris. So now the book is half in Germany and half in Paris.
During all these centuries its poems have been copied, published, made known, generated other poems. So I thought that the story of this book is important to explain how literature went over Europe and how it also influenced modern literature because among these epigrams there were epigrams, comic epigrams or there are love erotic epigrams and all of these small poems have generated other imitators all over the century.
Nerina: It sounds like an interesting cultural trip. Could you tell me more about this?
Simone: When humanism and then Renaissance began as I told you in the 15th and 16th century people all over Europe began to read and study Latin and Greek texts. Latin text had been studied all over the middle ages because Latin was a language that was not lost. Greek was lost in Europe but saved in Greece because that was the place where it was spoken.
When in the Renaissance these texts became popular they were printed and so they began to be sold and read. The story of Greece and being mostly the story of Rome became a topic of discussion among the intellectuals of Europe and the story of modern Europe started from this discovery basically. When they began to read again these texts and to build social, political and cultural system founded on that literature and that particular culture.
Nerina: Why is such a book so valuable?
Simone: The importance of such a manuscript was the fact that it contains some compositions that cannot be found anywhere else. So in a way this book contains some unique poems, some unique texts.
Nerina: How did you find out what happened to the book over the centuries?
Simone: Many people before me have studied the stories of these manuscripts. It's like a treasure hunt. You must put together some different clues and discover that they're connected. There are many people who have done a lot of work – scholarly work on this book. I chose to do something different because my book is an autobiography. It's the book itself that tells its own story and describes all these travels all around Europe.
Nerina: Why did you choose this kind of approach?
Simone: Some colleagues said that I am good scholar but I like to write things that are not very scholarly. That's what they said but I prefer to write something that is interesting. So I prefer to choose my topics, the topics I like and topics that I think can appeal to people of the 21st century AD.
Nerina: Besides of course the joy of writing interesting comedies, tragedies, and stories why is it important to study Greek and Latin literature?
Simone: It can help us to understand what we are and what we have become. Because for instance when you speak of political systems we use words, terminology that comes from the words and the terminology invented by the Greeks and the Romans. Basically all the terminology of politics comes from Greek or Latin. The word itself politics comes from Greek because 'politics' means belonging to the 'polis' and 'polis' means town and in the case of Greece its town state because as you probably know Greece has never been a nation or a state like it is now. It was made of different small towns, every town independent from the others. So politics means what regards the state basically.
Republic is a Latin word which means respublica; the things that belong to everybody. So it's something that can explain why the study of Greek and Roman is very important because the political system which is most used in the world this republic comes from a Latin word and from a system democracy that was invented by the Greek. In fact democracy is not a Latin word but it's a word taken from Greek and it means the power of the people.
Nerina: Could you tell me a little bit how the Greek literature developed and the relation to the Latin literature? A little bit of numbers so that we can have an idea what we are speaking about.
Simone: The oldest author in Greek literature is Homer; the poet who wrote The Iliad and The Odyssey. These poems have been composed orally about 1000BC and then starting from 7th and 6th Century BC these texts have been written down and Greek literature was born in those years. Historians, tragedians, comic poets and philosophers and all these literature became very important in the 5th and 4th Century BC.
Then when the Romans got in touch with the Greece that is since the 4th and 3rd Century BC they in one way became the heirs of the Greeks. So they developed their own literature based on Greek literature and of course this authors were the authors studied in Europe since the 4th Century BC until the 6th Century AD when the Roman empire collapsed but still the language was Latin and it remained Latin until the end of the middle ages when the Neo-Latin languages were born: Italian, French and Spanish and Europe was united also by these kind of culture and language. So what we have become now men and women of the 21st Century depend on what the Greeks and Romans wrote, taught and their culture. So that's why I think it's important that we still study this literature or at least that we do not ignore what they did many, many years ago.
Nerina: But who became an author?
Simone: There were not real public schools and people had to learn how to read, to write and to basically to talk by attending private schools. But there was in Athens in the 5th and 4th Century BC and then in Rome an elite that was able to write and to read. For instance some literature was enjoyed by everybody. In Athens in the 5th Century everybody, all the citizens went to the theater to watch tragedies and comedies and they received the ticket for entering the theatre by the state because it was considered something important for their own education and culture. So this is one way when we have a writer, a comic poet or a tragic poet who writes tragedy or comedy and of course this is someone who is skilled and is able to write such things. But everybody went to the theatre and watched these shows because it was part of their education, was part of public life and also part of their religion because this performances were performed during religious festivals in the town.
Nerina: But the Greek literature is a "men" literature…
Simone: This is true and actually it's true that most of the authors are men. There are some exceptions though Sappho is surely one of these exceptions and Sappho is also a poet who ability was also recognized by man. Plato said that Sappho was the 10th Muse. So among the nine muses there was also Sappho but it is true that Greece and Rome were societies where the position of a woman was not very strong, it is true. There are some exceptions but very few.
Nerina: Who is your favorite author?
Simone: My favorite author is Aristophanes, so Greek comedy.
Nerina: And your favorite piece?
Simone: Lysistrata. Aristophanes, Lysistrata.
Nerina: What is the story and why?
Simone: The story is quite famous. The women of Athens are fed up with the fact that their husbands and their lovers are always away fighting in the war. So they say that they will not make love any more if they don't make peace with Sparta and at the end men agree.
The meaning of this comedy is very clear that war is the worst thing ever for human beings. If there is war there is no life, love is life and so that's what is clearly told by this story. It is told in a funny way and unfortunately it was not able to influence the Athenians because the comedy was performed in 411 BC and the war ended badly for Athens in 404 BC so seven years after but the story was very simple.
I have studied not only the comedy itself but also the many modern versions that had been made of this comedy since the 16th century. It has been quite funny because the Greek comedy ended well for the women while the modern versions end badly for the women and it's quite strange the fact that in a society that was so clearly pro-male and anti-woman like Greece there might be a comedy where the main character is a woman and at the end she wins. While in the history of modern Europe it doesn't happens so.
Nerina: How do you see it and why?
Simone: Because these versions were written by men who were not as smart as Aristophanes.
Nerina: An old comedy with a still relevant topic.
Simone: Yes. In fact during the cold war it became the most popular comedy of Aristophanes and it was performed everywhere and also in 2003 when the second Gulf war started there was the Lysistrata Project that is performances of the whole comedy or parts of it all over the world. I think it was the 17th of March of 2003. So this comedy of Aristophanes was chosen all over the world as a manifesto against war. So this also explains why classic literature is not dead but it's alive, it can say something interesting even in our times.
Nerina: Why do you believe that knowing the past can improve the present?
Simone: Because we know what has happened before us otherwise it's like starting again you know. If you ignore what has happened before it's like starting from the Stone Age. Most of the problems that we are discussing now have been discussed by the Greeks and Romans before us. Just let me use an example which of course is very important right now.
Now Europe finds itself in a very difficult situation because of all these people that are trying to enter Europe coming from Africa or from Asia because of war, because of poverty. They try to arrive in Europe. This problem has also been present in the story of Rome for instance. It happened in the 2nd, 3rd, and 4th century A.D. when the barbarians were pressing on the border. So what did the Roman do? At the beginning of the 3rd Century AD, Caracalla the Emperor gave the citizenship to all the people who lived inside the boundaries of the empire. So everybody became members of the Roman Empire without any kind of discrimination, these people came to the Empire and they became citizens. So that's one answer and so we found ourselves in a situation which is very similar and knowing what they did before us might be important.
Nerina: But Rome went also down. It was the end. Was this a good solution for the empire?
Simone: Well they could survived another 200 years. Can we say the same for Europe?
Nerina: I'm not sure Simone it's really a good question.
Thank you so much for watching, thank you so much for sharing and thank you so much Simone for this conversation.
Simone: You're welcome.
Nerina: Thank you.
Biography:
Università degli studi di Siena, Italy