From science to innovation, development, and sustainability in Thailand (Yongyuth Yuthavong)
From science to innovation, development, and sustainability in Thailand
What is the more human side of science like? How is it linked with the human spirit? And what is the role this connection plays in the growth of an entire country?
Professor Yongyuth Yuthavong draws a detailed and thoughtful map on how science inspired him to grow from an avid biochemistry student, to a determined researcher in the fight against Malaria in Thailand, to the country's very own Deputy Prime Minister.
As a pioneer and an investigator at heart, Yuthavong played an important role in the creation of Thailand's National Science and Technology Development Agency, focusing his research in the interactions of Malaria and the creation of antimalarial drugs. As a politician and as a professor, he puts sustainable, long-term development at the forefront of his discourse, and continues to dream of a brighter future in which the younger generation gets the chance to learn, experience and contribute to society, within and outside the scientific sphere.
With a life devoted to science, which brightest aspects can be found in his book Sparks of the Spirit, professor Yuthavong remains a shining light in the world of research and politics, reminding us that true passion touches not only ourselves, but those around us.

Conversation by:
Learn more about Yongyuth's work:
www.researchgate.net/Yongyuth_Yuthavong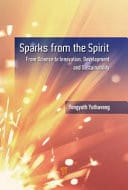 Conversation by: